What is Vitamin C, otherwise known as ascorbic acid, what are its benefits and why did we include it in your aecodune shower head? Sneak peak: it has health, beauty and mood benefits to deliver a hat trick of personal goodness in just 10 minutes every day.
>> Read also: The Science of Anions: Why Showering with Tourmaline Crystals Will Heal You AND Your Home
Animals have skills we don't
Fun fact, most animals can synthesize (create) vitamin C (example, sick dogs produce more than healthy dogs). The exception is humans, who have through genetic mutation lost the ability to synthesize vitamin C; they are reliant on daily intake to maintain blood levels.
Vitamin C for pharaohs and sailors
Throughout most of history, even if they didn't know what Vitamin C was, people realized that citrus fruit and other foods could be administered to fight scurvy, a deficiency disease that affects the skin, hair, joints, muscles and bones and is eventually fatal.
Ancient Egyptians would eat onions to combat symptoms, and 18th century explorers would give a daily ration of citrus to sailors. British sailors were even referred to as "Limeys" because of this practice.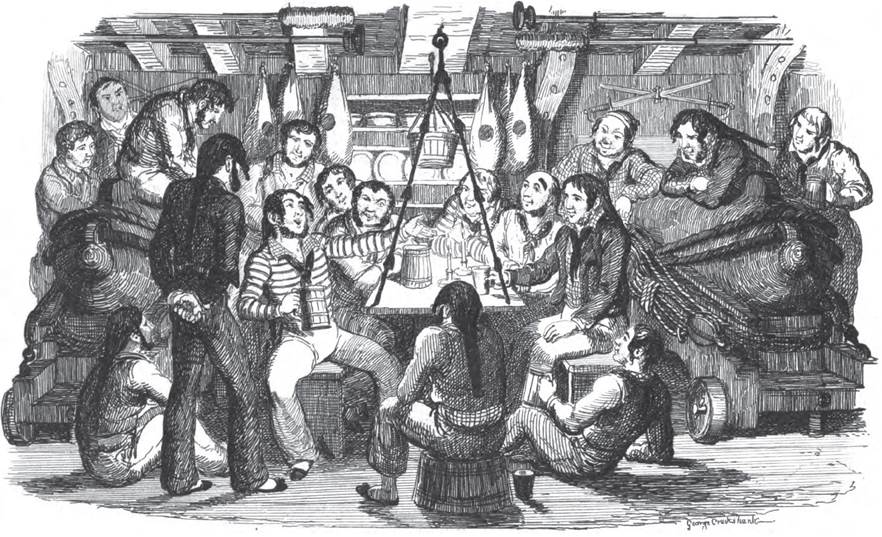 It wasn't till very recently in history, circa 1930 that the molecular structure of the compound ascorbic acid was isolated and determined by a Hungarian and British chemist, who won respective Nobel prizes for the discovery.
Finally, the idea that vitamin C could do other things, like combat the common cold, only caught on through publication of a book by chemist Linus Pauling in 1970.
Why we love Vitamin C
Vitamin C is a super-nutrient, as it is very safe and extremely effective for protecting against a wide array of potential health problems, like immune deficiency, cardiovascular disease, prenatal baby health, eye disease, and skin disease, as well as:
Stress: Vitamin C is sensitive to stress and easily depleted in individuals with unhealthy lifestyles. Taking on more vitamin C can counteract this (in part by reducing the stress hormone cortisol) and boost the immune system as well as your mood. Ascorbic acid is also an antioxidant and helps combat free radicals in the body that can lead to disease and accelerated aging.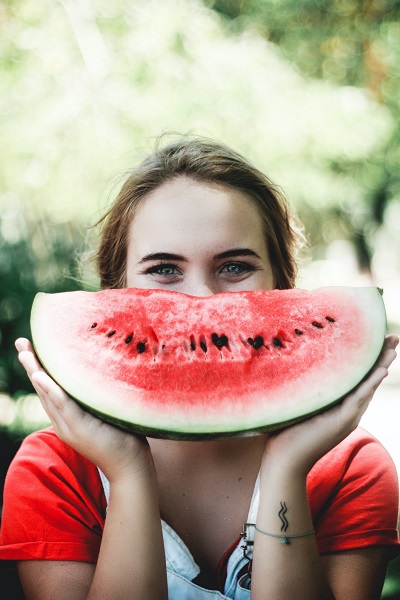 Colds: While Vitamin C probably can't cure colds, it prevents escalations into worse illnesses and can speed up the recovery period. As a long time concert singer, I can vouch from personal experience for a 3-day, 2 gram supplement to "survive" the dreaded "solo during a cold" scenario (adrenaline helps too).
Skin aging: Vitamin C affects cells in part by promoting collagen growth. Collagen is the body's "glue" and makes cells and blood vessels stronger and more elastic. As such it lowers the appearance of wrinkles, the incidence of dry skin and generally gives skin a more "youthful" appearance and healthy glow. Collagen also is an important part of hair structure, so your hair on vitamin c will be grow faster, feel stronger and look healthier. And finally, by these same properties, collagen will give you stronger and healthier nails.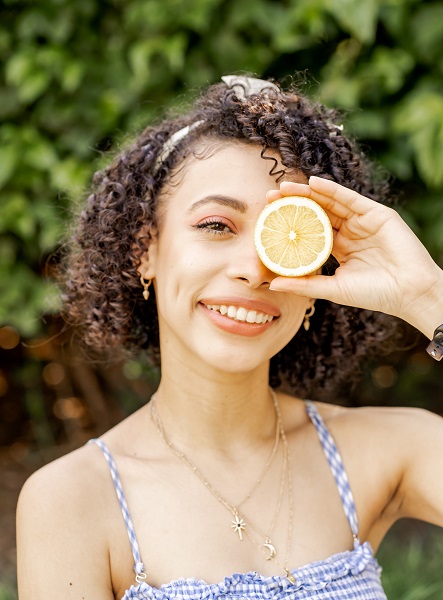 Cartilage, bone, and tooth health: vitamin c helps with the proper absorption of iron, which in turn strengthens bones and connective tissue. Conversely, a difficulty in absorbing iron can also lead to fatigue and weakness.
Vitamin C blood levels may be a good indicator of overall physical health in people. But researcher Mark Moyad at the University of Michigan also suggested that optimum health benefits come from a dose of 500 daily milligrams, or 9 servings of fruits and vegetables per day, with a safe upper limit of 2 grams a day. Since most people don't eat as many portions, supplementation is a good option.
Vitamin C absorption
The primary way to absorb Vitamin C is orally, through the foods you eat or through supplemental pills or powders. It is absorbed into the body through the membranes of the mouth, stomach and upper part of the small intestine.
In general, the larger the dose, the less is absorbed. A dose of up to 250 mg will be absorbed 80%, where a dose from 250 mg to 2 grams will only be absorbed 50%. Vitamin C that is not absorbed is eliminated through urine.
If you want to keep your vitamin C levels as high as possible, your best bet is to take multiple doses spread throughout the day.
Ascorbic acid is destroyed at high temperatures, so you can eat raw foods at different intervals to get some of your daily dose.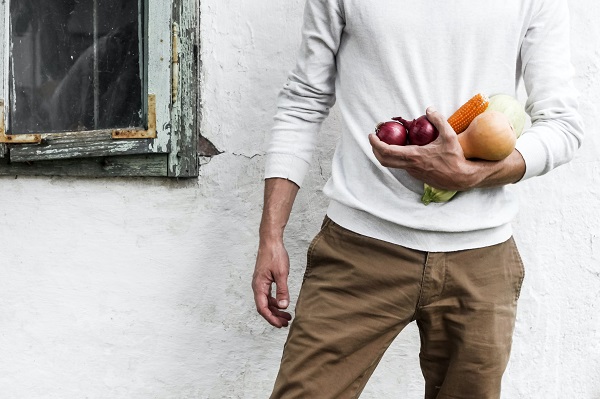 You can also absorb Vitamin C topically, through the skin, through serums, creams, or vitamin shower water. A daily vitamin C shower is therefore an excellent complement to a healthy diet.
A note, the higher your overall blood levels of vitamin c, the lower your absorption of any supplemental vitamin c, including topical applications.
Vitamin C filtration
In the Vitamin Shower context, Vitamin C performs a filtration role in addition to the supplement effect mentioned above.
Ascorbic acid neutralizes chlorine and chloramine in water quite effectively, as this San Francisco Public Utility Commission report shows. In fact, if you want to filter your drinking water, you can put a sliced citrus fruit into your water pitcher and let it sit for 30 minutes.
Popular blogger Wellness Mama herself adds Vitamin C to her children's bath to neutralize chlorine and chloramine.
Remember, chlorine in the water can be absorbed by your skin as easily as by drinking it, which can pose health problems over the longer term, especially with sensitive people. Also, chlorine as a water treatment, combined with organic matter, can produce byproducts called THMs, such a chloroform, which are carcinogenic.
Aecodune's Vitamin C shower head can help you eliminate these nasty chemicals from your bathwater and leave you feeling beautiful, healthy and deeply clean.
Your Own Personal Spa
The aromatic oils in the Vitamin C cartridges help you to carve out some "me time" to rejuvenate every single day, especially important in our current chaotic world.
Our aecodune shower head distributes the natural, aromatic oils in our blocks directly through the water flow, turning your shower into a customized, personal spa where depending on your mood, you either relax and unwind, or energize for the day ahead.
Stay tuned for our upcoming article on the specific aromatherapy effects of Lemon, Rose and Jasmine.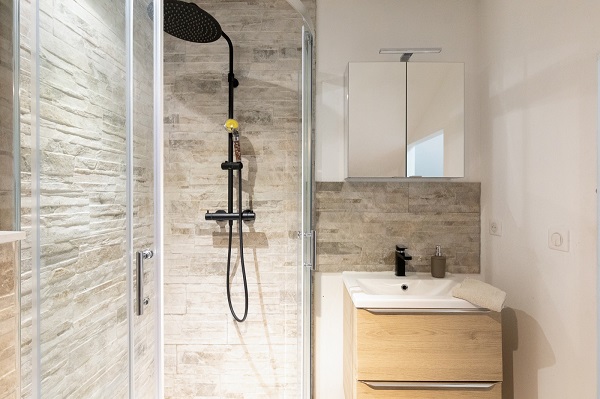 A gift for you and your loved ones
It's nearing the holidays: give the gift of relaxation, health, well-being, beauty, and deep clean to a loved one! Use the coupon code DOUCHENOVEMBRE at checkout for 3 Euros off each product in your basket. Limit of one code use per customer and Europe only for now–North America coming very soon!