It's the holidays, and whether you're sharing gifts with your immediate family or mailing them to friends and loved ones afar, it's the time of year that can be expensive and rough on single-use waste.
The topic of waste generally has been an important one for our family for years. As it's a theme for us (food waste, paper waste, plastic waste, etc) we wanted to share it with you by building it into our company through a commitment to plastic-free packaging, water saving through our shower head and contributing to plastic cleanup of the Mediterranean, where we live.
We also have some family practices around this that we thought we could share with you, in case it provides some inspiration to reduce waste in wrapping gifts. It's not only a good way to be more eco-friendly, but it also saves money, and can add a lovely personal element to some gifts. Win-win-win!
1. Recycle single-sided printouts with kids drawings
Working from home and have your own printer? Recycle your single-sided printouts with kids drawings! We have a special recycling bin for our occasional single-sided printout paper. Our two youngest love going through this recycle garbage and drawing "surprises" on the back side. For holiday gifts to the grandparents or friends, we tape together a few of these drawings and make for a big artwork project to accompany the gift.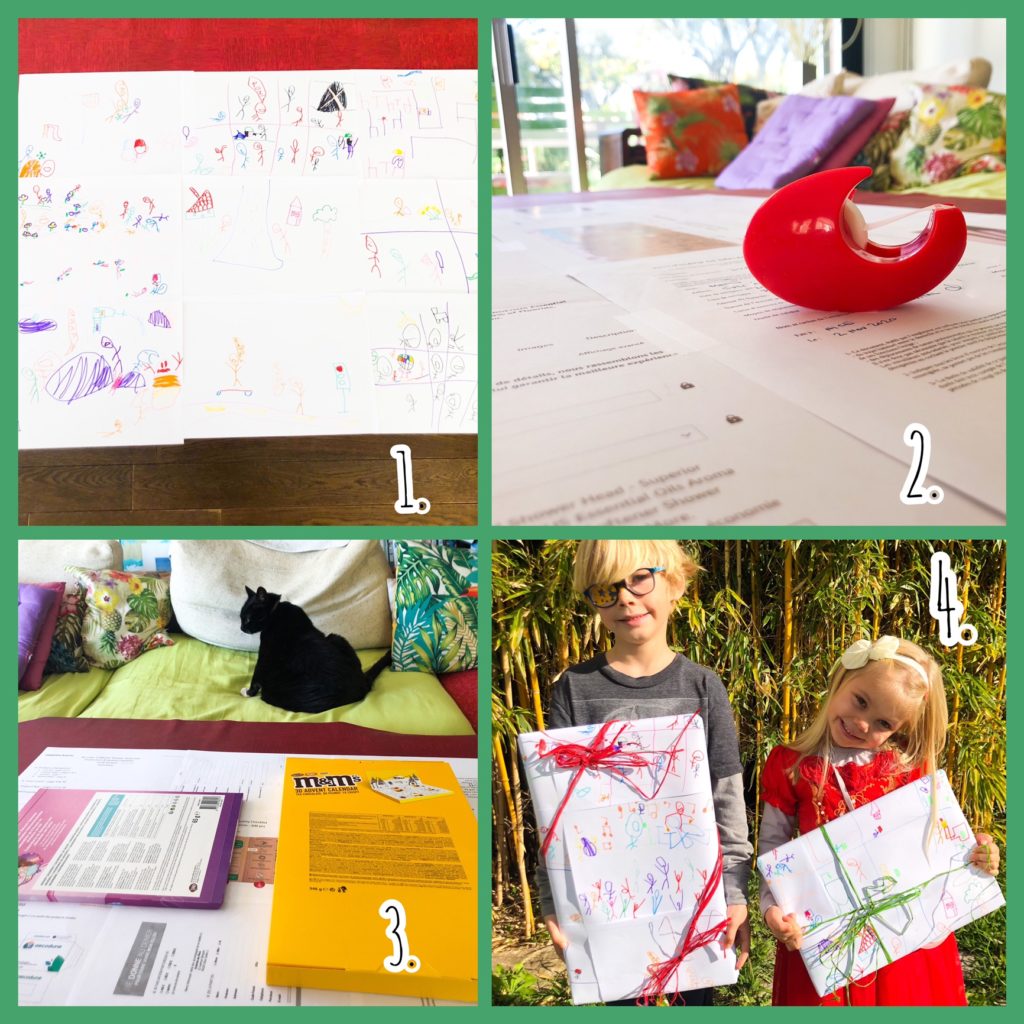 2. Reuse bags received from others
Many holiday and special occasion gifts given to us over the years have come in beautiful and sturdy bags which, let's face it, don't get damaged in the unwrapping process. So we just fold them flat and stick them in the back of a closet until the next occasion comes around, and repurpose them when a more "formal" look is called for.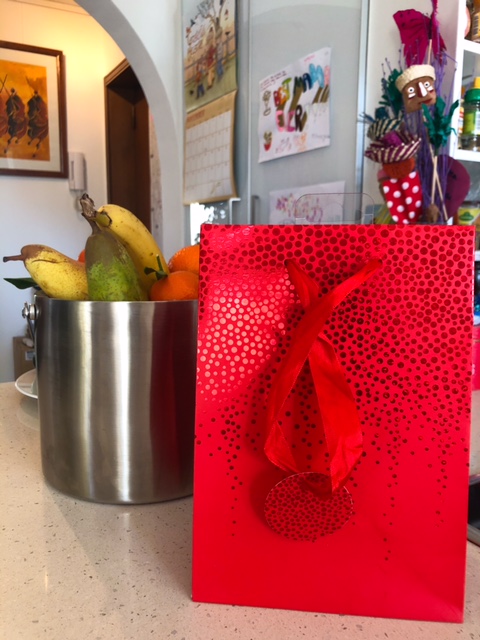 3. Newspaper or paper bags
For a statement piece, you can wrap a gift in newspaper or a used paper bag and use the occasion to talk about doing your part for the circular economy. This isn't something we have a lot of practice with as we reuse our shopping bags and read digital news, but we do have some (very) old newspaper that we use for art projects, which can be another idea—paint your paper before gifting it (see point 1).
4. Furoshiki ?
Furoshiki is the traditional Japanese art of cloth wrapping, for any purpose (shopping, transport, lunch, clothing, etc). The practice has gained some international attention as an environmentally sustainable way to gift wrap. Speaking for our family, we have a sewing bin under a bed which is full of fabric, thread, ribbon and so forth. The plan is to wrap some of our gifts in fabric (with potentially hilarious results) and then refold and put away for next year. Stay tuned for a social media share in a few weeks…You could also do it with a tea towel if gifting for someone else (preferably a square one), which would make it two gifts in one. Here are some clever infographics on how to fold.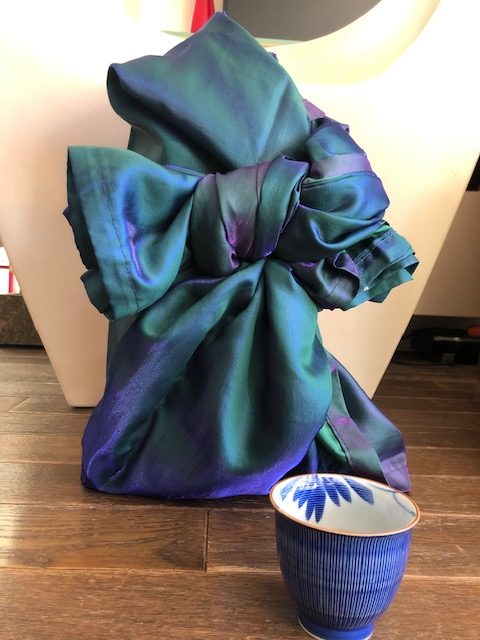 5. Kraft paper
If you need to single use, try kraft paper. It's sturdy, it's cheap, it's unbleached (so it retains the natural wood color), it's 100% natural biomaterial and biodegradable and compostable. And you can decorate it yourself, blogger Eva Amurri has some clever ideas in this post. Or you can just use some twine and some pine branches or pinecones for a super natural look.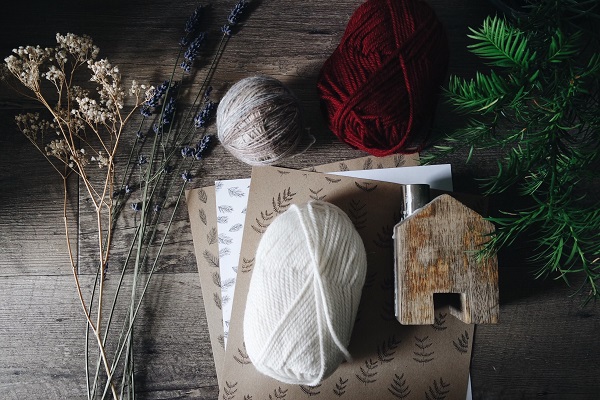 With aecodune, we normally ship our packages without overpackaging (unless you buy it on Amazon), as our boxes are sturdy kraft boxes to keep your products safe, and don't require anything extra. For the holidays we've decided to put a light kraft paper wrapping so the shipping label doesn't "ruin" the natural box look. Once unwrapped, you can just decorate it with twine or pine, and place it under the tree.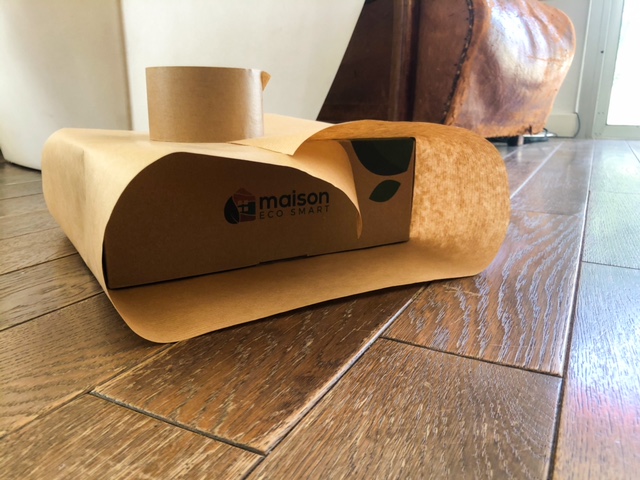 Should you be interested, we have a promotion going on with our water-saving and filtering vitamin c shower head, just use the promo code DOUCHENOVEMBRE at checkout for 3 euros off.
Happy wrapping!